Daily Archives:
May 4, 2012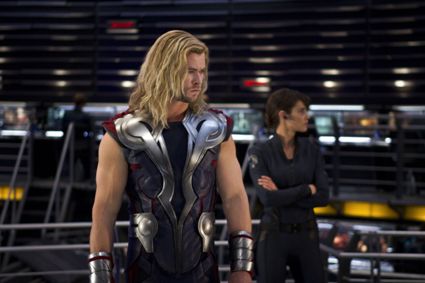 With his blonde hair, enchanted hammer and sci-fi/Wagnerian hybrid clothing, the mighty Thor is one of The Avengers; speaking to MSN Movies in L.A., Australian Chris Hemsworth is more mellow and more relaxed than his on-screen character. We spoke with Hemsworth about his anxieties in taking on the role, about whether the hair or the hammer makes the superhero, and playing make-believe with a $200-million budget. 
MSN Movies: When it comes to those moments where you have to get into character as Thor, what helps more: The hair or the hammer?
Chris Hemsworth: The hammer. It feels right. I feel naked without the hammer. There were scenes where he doesn't have (it), and I don't even know where to put my hands.
You get a little fidgety, as a thunder god, without your hammer?
You do.
"Thor" had that big cosmic epic scope, that mix of science and Shakespeare. When you look around this, and you're standing in a flying aircraft carrier and fighting alien monsters, how do you wrap your head around the muchness of it?
It's all make-believe, whether you're in another realm in the middle of Asgard in some sort of ethereal chamber, or some helicarrier, like in this. To be honest, right there whomever you're acting with, that becomes your focus. A lot of that is green screen anyway so you can't even see it. It becomes about the script, and about the interactions with the characters, and trying to find what's the truth in that moment, and then you just step by step, and hopefully it all falls into place.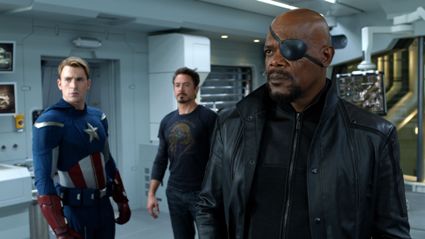 First seen in the Marvel movie-verse as a post-credit moment in "Iron Man," Samuel L. Jackson's eyepatch-wearing, glowering super-super-secret agent Nick Fury has become a common thread in the later films — and steps up to the front in "The Avengers." We spoke with Jackson in L.A. if he knew all of this was going to happen, the best part of working with writer-director Joss Whedon and if he is, as his co-stars suggest, scarier before lunch than after …
MSN Movies: This character has gone from this little post-credit "Yes!" moment to being this huge presence in these films and in this shared universe. Did you know it was going to be like that from the jump?
Samuel L. Jackson: I didn't know it, but I kind of felt something positive was going to happen through all this after the great response we got to the little tag ending of "Iron Man," and all of a sudden I pop up in the next one with Natasha, who enhances my presence. Hopefully being the ligament that ties all these different films kind of mentioning "The Avengers" initiative all the time. Mentioning and hinting at kicking somebody out of "The Avengers" initiative wasn't even in at a certain point, so people kind of go, "What's he talking about?" Finally you get to a place where you see what Nick Fury has been trying to do.
You have this film where you have CGI, huge green people throwing cars around …
He's not real?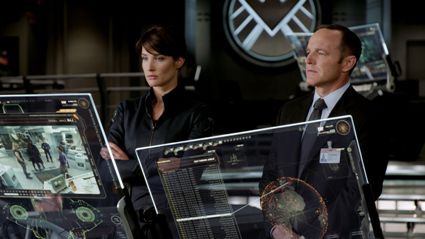 As S.H.I.E.L.D. agents Coulson and Hill, actors Clark Gregg and Cobie Smulders add a welcome touch of working-class humanity to the heroics going on around them in "The Avengers." Gregg's been part of the Marvel Comics films going back to "Iron Man," although his previous resume includes work with talents like Aaron Sorkin and David Mamet; Smulders, best-known for the small-screen "How I Met Your Mother," joins the Marvel films for the first time with this film. We spoke with the two in L.A. about the human touch, costumes and gender roles, having Samuel L. Jackson as an on-screen boss and action-figure envy …
MSN Movies: How nice is it to be able to give the human touch to all this mythic special effects stuff going on?
Clark Gregg: It's pretty darn nice, I've got to say. It's been one kind of amazing ultimate surprise after another from the first "Iron Man" — kind of showing up being a guy just pestering Tony Stark. Then gradually revealing that the "Strategic Homeland Intervention Enforcement Logistics Division is S.H.I.E.L.D. And kind of finding out on the one hand this guy knows all kinds of secrets and is involved in stuff you can't even imagine, and at the same time, in this movie we get to learn he grew up loving the comics and is a huge fan of Captain America, and can barely contain his schoolgirl giggles when Captain America is there …
You, Ms. Smulders have to wear this sort of action leotard (as Maria Hill), and Mr. Coulson just wears a really great suit. Do we need to talk to S.H.I.E.L.D. about gender roles and the workplace dress code?
Gregg: Well, they put me in the unitard with codpiece, but it wasn't good for anyone involved so they quickly put me back in the suit …
Cobie Smulders: … And they also felt that Coulson is on the field a lot, and he'll draw too much attention if he goes out in his leotard. Those who stay on the Helicarrier can put the uniform on. Maybe if I was in his role I'd get a female power suit, or something like that.