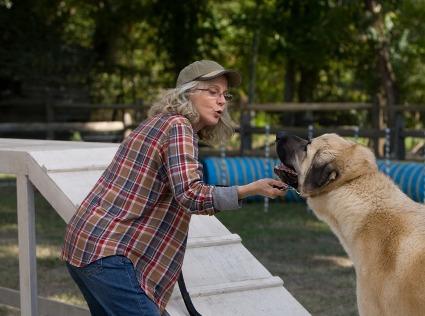 With her silver hair and elegant air, Blythe Danner sailed into the room to speak with the press about "The Lucky One," where she plays Taylor Schilling's grandmother, giving appropriate nudges and welcome comic relief to kickstart Schilling's romance with ex-marine Zac Efron. Danner may be best known as Gwyneth Paltrow's mother, but Danner's career has lasted over 50 years, with her first on-screen role in 1968. Danner shared her thoughts on a number of topics with a number of reporters.
 On playing a grandmother and being a grandmother:
I'm not quite as wise and judicious in my input. I try to just be there if needed. As a grandmother I'm very goofy. I'm silly. I just love to spoil them, and I love to get down on the ground. They're very wise. They are. I learn a lot from them, just as I have from my children.
On fitting in as part of an ensemble:
 I've always thought of every piece I do as a musical piece and what instrument am I. I was thinking "Am I the piccolo, or am I the cello?" Definitely. I love doing that kind of role. It's  back up with some (characters). She's very solid. I love that too. I love the fact that she is the strong one helping, guiding silently.