Daily Archives:
March 21, 2012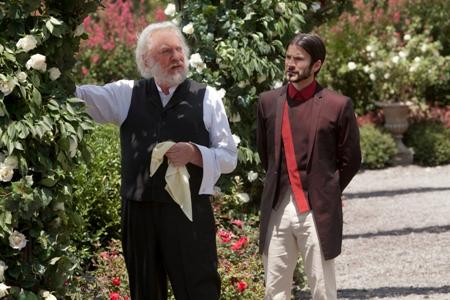 In "The Hunger Games," he's the silken and sanguine President Snow, dispensing cool cynical wisdom in a garden of roses fed by blood. In life, Donald Sutherland — eye patch across his face thanks to a self-induced comedy-related injury — sat down with us in Los Angeles to talk about politics, fame and power, his enthusiasm for Gary Ross's vision and his almost-Shakespearean​ take on Snow's bizarre symbiosis with Katniss Everdeen: " He relishes, he delights in the idea of a battle with her …" 
MSN Movies: I always imagine that knowing the tone of the piece is incredibly important. When you read this and you know that you're the villain of the piece. There's a lot of velvet cloak stuff, and posing and props. Does that give you a sense of how to shape a performance?
Doanld Sutherland: No, not at all. None of those exterior things come into play.
Even when you're doing stuff that's seemingly operatic? As this guy is standing in front of the trappings of power, you just play on this very personal, very intimate level?
Yeah, I play him on the level that a bureaucrat standing in front of that stuff … would address the people.