Daily Archives:
March 15, 2012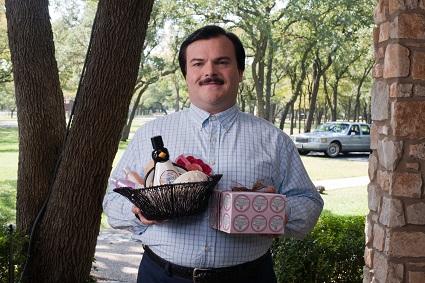 In the Richard Linklater film "Bernie," the title character — based on the real Bernie Tilde, a Texas resident embroiled in a headline-grabbing murder case when he accidentally killed his best friend and benefactor Marjorie Nugent (Shirley MacLaine) — is played with a pitch-perfect mix of grandstanding and shyness by Jack Black. Black made his name as the wildman in comedies from "High Fidelity" to "School of Rock," But Bernie is a much more restrained performance — strange, sweet and sorrowful, while still showing the life and vivacity the real Bernie was, and is, known for. We spoke with Black in Austin at SXSW, where "Bernie" played Wednesday night.
MSN Movies: What was the degree of apprehension for you, as a native son of California, to play such a Texas part and did the "outsiderishness" help in that?

That was one of the most attractive parts of the role. Getting to play someone from a different region. It's always fun to inhabit a character with a different accent because you get to do a little "actor-y" research. And you've got something that gives you clues as to who this person is. And there's so much of the personality in the voice, you know? And I also have always felt sort of a strange kinship to the Texas people. I was born and raised in Los Angeles, but people a lot of times will say, "Are you from Texas?" For some reason, I feel like I've always had a little bit of Texas in my soul. Maybe in a past life I might have been a Texan military officer. I'm channeling myself right now.Please note that Mr. Black is now channeling himself through his past lives.Well, I just did a movie with Shirley MacLaine, so I know how to do this.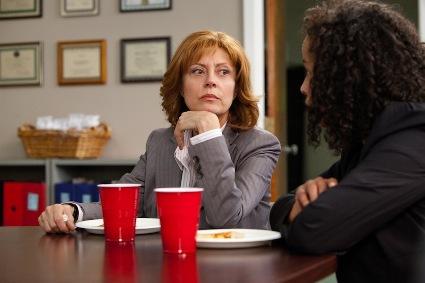 Speaking to Susan Sarandon, one is imposingly aware they're talking with Susan Sarandon — the voice, the eyes, the measured delivery and slow-burn sense of humor that's been a highlight of her work for decades. In the new film "Jeff, Who Lives at Home," Sarandon plays the title slacker's mom, whose request for wood glue sends Jason Segel out into a karma-filled, destiny-fed journey through New Orleans. We spoke with Sarandon in Los Angeles about low budgets, the secrets of authentic happiness, and growing up without growing old.
MSN Movies: Of course being familiar with your work and that of the Duplass brothers, I have to ask about the point of intersection — was this the smallest set you've worked on in a long time?
Susan Sarandon: No. I've done so many indie films, I can't even begin to tell you. I'm surprised no one realizes that, actually. No, I mean, "Bernard and Doris" had two people in every department and we did it for $500,000 in not even three weeks. Seriously, my friends were the head of the departments, and they had either their child, or … I mean, a really small crew. That might have been the smallest one. I mean, the first film I did, "Joe", I did my own hair, makeup, and wardrobe. They shot holes in my own jacket. There was no trailer, nowhere to go to keep warm.
The Peter Boyle "Joe"?
Yeah. He took care of me on that one. That was the first film I did and I didn't know any better, so I didn't fuss. Recently, you know, I did "Robot and Frank," that was a small film. "Arbitrage" was a very small budget. You know, ("Jeff, Who Lives at Home") was a very warm set and I really love the atmosphere that they make. And the fact that there are fewer people there behind the monitor really does make it feel more family and more like they're making the decisions and there aren't seven people voting and giving you notes through them, which happens on bigger films, as if all the executives sit there and the many producers or whatever and they all weigh in, so it felt very personal.