Daily Archives:
March 6, 2012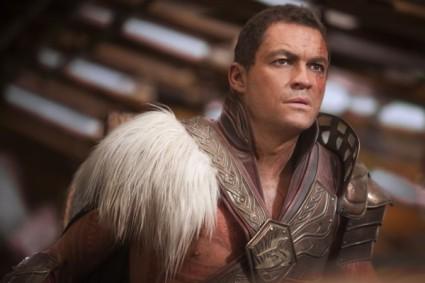 Best known to American audiences as James McNulty on "The Wire" — and, regrettably, as the bad guy Jigsaw in "Punisher: War Zone" — British actor Dominic West is playing another villain in "John Carter," cast as Sab Than, the warlord whose atacks on the peaceful people of Mars face a new challenge in the for of just-arived Earth transplant John Carter (Taylor Kitsch). We spoke with West in Arizona about playing bad guys, Shakespearean grandiosity and the exhaustion of effects makeup.
MSN Movies:  Playing a bad guy — you get to sneer, you get to blow things up; you get to use your actual accent. How satisfying is it?
Dominic West: It's really satisfying, because you get to give vent to things that normal society doesn't let you, like wanting to kill everyone and take over the world. Which I'm sure we all relate to, but it's just that we don't get much outlet for that, unless you're Khadafy.
Right — not much outlet, or none really.
None, really. Some people have a bit of outlet.
There's one moment where you're presenting yourself to Deja Thoris (Lynn Collins), the princess of Mars whose hand in marriage you're demanding, and you drop to your knees and put your own sword to your neck … you kind of pull a "Richard III" there. Is that where you stole that from?
Yeah, I suppose that's a great way to seduce anyone, to say, "Listen, either have me or kill me." Usually if you can persuade them there's no other choice than that, they won't kill you.