Daily Archives:
January 25, 2012
Perhaps best known for his work as Stephen Stills in "Scott Pilgrim vs. The World," Mark Webber has not one or two but three films at Sundance — the comedies "Save the Date" and "For a Good Time, Call…" and also his own second directorial effort, 'The End of Love," which depicts the life of single father Mark and his 2-and-a-half year old son Isaac as they cope with the loss of his wife. Directed and shot with an all-encompassing intimacy, it's a big change from Webber's directorial debut, "Explicit Ills." We spoke with Webber in Park City about turning art into life, if Sundance is now a comedy-friendly zone and about what Chevy Chase has done for his image. Seriously.
So you're sitting around with your son, your relationship with his mother is about to transition … at what point do you think, "I could make a movie out of this?"
Mark Webber: There was a version of this script that I wrote before Isaac was really kind of full-on speaking and that was all just coinciding with me being like, "I need to make another movie as a director. I need to make another movie. What am I going to do? What am I going to do?" Knowing that I wanted to create a vehicle for myself, and kind of create the ultimate environment for me as an actor in the way in which I liked to work, and I just so happened to coincide with some pretty rough moments that were happening in my life. I used that to kind of build this character and then to kind of build this story.
Norman Mailer said, "The best way to get over a woman is to write a good book." Was that part of it — like "Okay, if I can turn all this heartbreak into catharsis, then I won't feel so bad?"
That wasn't at the forefront of my brain, it wasn't like I had some vendetta or anything, but when I look back at it — so much for me as a filmmaker and artist is exploring these things — yeah, I wanted to make a kickass movie. She's in the film, but it was more so about really creating a platform for me, and trying to do something that kind of hadn't been before with someone so young, and she was ultimately very supportive of that.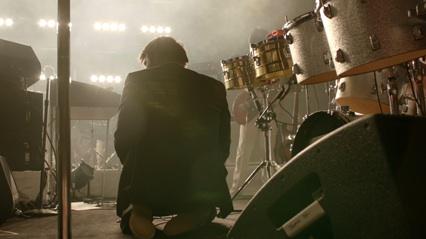 Rating: 3.5/5 Stars
Early in "Shut Up and Play the Hits," a brief excerpt from a review between James Murphy — the man behind the Grammy-nominated LCD Soundsystem — and Stephen Colbert puts things in context. With the first LCD Soundsystem released in 2005 and the band's farewell just six years later, Murphy had already announced his plans to end the 'band' and touring with a show at Madison Square Gardens. Colbert explains how Murphy is doing it all wrong: "There are three ways to end your career in rock and roll: overdose; over-stay your welcome; or write a Spider-Man musical …"
It gets a laugh, but it's true; very few bands leave before their time. I can only think of two groups, The Band (whose last show is immortalized in Scorsese's "The Last Waltz") and Steve Albini's Big Black, that jumped off the stage before they were pushed. In "Shut Up and Play the Hits," British directors Dylan Southern and Will Lovelace capture that final April 2nd 2011 show, as well as the aftermath. We cut between loud, live performances of songs like "North American Scum" and "New York, I Love You But You're Bringing Me Down" and both the quieter aftermath of the days after the show — starting with Murphy waking up still in his tuxedo shirt from the night before, cuffs and collar caked with grime — and with a sort of exit interview between Murphy and journalist Chuck Klosterman. (Klosterman, or, for that matter, anyone else, is not identified in the film; documentary formalists will grumble, and I might be with them.)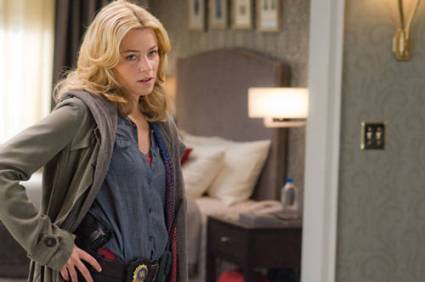 With her shimmering blonde hair and elegant demeanor, Elizabeth Banks could have been just another rising starlet — but fortunately, her whip-crack sense of humor and no-nonsense approach meant she became an invaluable addition for directors looking for an actress who could fill out a punchline or a character as well as dress. In "Man on a Ledge," Banks plays the disgraced hostage negotiator Sam Worthington's character summons, by name, to the 21st floor of the hotel where he's high above the city streets. It is, of course, all part of the plan … We spoke with Banks in Los Angeles.
MSN Movies: In this film, your character wakes up, hung-over, in a messy room — and then you have to get up and save the day as one of the NYPD's best. When you read that and you're completely embracing the cliché of the hard-living hostage negotiator, how much do you love that?
Elizabeth Banks: I pushed for more. I wanted there to be, like, three guys in the bed. I wanted it to be like real rough. I think it's just the right touch actually. You want to know that there's a place to go. You don't want to show up in the movie and have one note to play. You want to make sure you have an arc. I really felt like that was a great intro to sort of say, "This person is in the dumps. She's at a low point." I need to redeem myself over the course of this movie, and that's what Sam and I have in common of course, as characters, and he knows that. It really gave me sort of a place to go. Also I think they just wanted to see me in like my underwear. I'm pretty sure it was just like, "Let's put the girl in her underwear."