Daily Archives:
January 24, 2012
Part Jack London, part John Carpenter, "The Grey" combines hurtling excitement, heartfelt emotion and masterful filmmaking and acting. It's not just the bloody kill-or-die adventure; a true and beating heart is what makes "The Grey" come alive on-screen. Speaking with director Joe Carnahan and Liam Neeson in Los Angeles — each with an adult beverage in front of them — the easy rapport between the two came across.
After this film, one of the things I wanted to watch was "Runaway Train," because you had this similar story of rough guys in rough circumstances.
Neeson: Good call, buddy.
Carnahan: You know, what if I had to pick one film that's elementally similar to "The Grey" it's "Runaway Train." By the way here's an interesting fact about "Runaway Train": Produced by two Israelis, Golan and Globus, written by Kurosawa, directed by a Russian, starting three Americans.
There's all these rough guys in rough circumstances, and the roughness kind of scours their armor away until they're completely vulnerable. How do you write that, and how do you play it?
Carnahan: I think you write it with a huge degree of humility. What's great about that script is I can actually say it's kind of my own psyche, which means my own insecurity and my own fear laid bare for all those characters to kind of inhabit. It's not that difficult if you don't give in to melodrama. That's what I avoided I think was melodrama. In the writing of that it's just these conversations, but it's exactly what you said. I said that earlier, "Nature will eventually remove the veneer of whatever you think you're projecting to the world. It will strip you of that and show you for who you truly are." That was kind of the goal; especially a guy like Diaz, who's probably the most extreme example of that. This machismo, until the guy who's the de facto leader of this group says, "What the f**k is wrong with being afraid? I'm scared s**tless. What's wrong with that?" You don't see that in movies. You certainly don't see a guy like Liam Neeson say it, so when that moment happens it becomes very honest, and it becomes soul-baaring, I guess in a way. You're just honest with yourself; that's how you write it.
How do you play it? Acting when you know you're playing voiceover later as well, how do you play that stuff and how do you keep subtelty from becoming invisibility?
Neeson: We laid very little voiceover later. I don't think ever really changed a semi-colon, a comma in this script. We knew the emotional reservoir that was there. We had four or five days of rehearsal beforehand just to talk about stuff, but we never ever intellectualized the emotional impact. Joe cast me for whatever reason. All I knew when he gave it to me, was "Okay, I can hit these reservoirs of emotion very easily."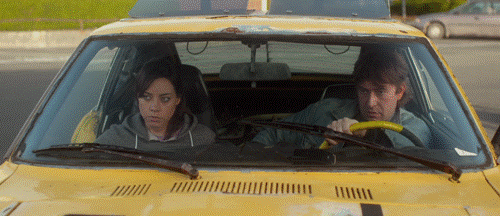 Rating: 4.5/5
I know that often, "standing ovations" occur in Sundance's theaters with the same frequency, noise level and sincerity as "orgasms" occur in pornography. With that said, I've never in my 12 years of coming here heard an audience shout, gasp and cheer — the sounds of an audience getting on board with a film — like they did during the climax of "Safety Not Guaranteed," the feature-length fiction debut of Colin Trevorrow and screenwriter Derek Connolly. I was one of the people cheering, notebook and cynicism both forgotten in a rush of pure moviegoing joy. 
Inspired by a real-life story that became its own tall tale, "Safety Not Guaranteed" begins with Darius (Aubrey Plaza), a harried intern at Seattle Magazine. Darius is a little sad, a little shy, a little stuck — but when big-mouthed top-dog reporter Jeff (Jake M. Johnson) pitches the editor on a story too crazy to be true, she gets picked to go on the hunt along with another intern, Arno (Karan Soni). The three head down the coast to the sleepy getaway town of Ocean View, Washington, as Jeff saw a classified ad looking for replies to an Ocean View P.O. Box, with the ad's author looking for "someone to go back in time with me … Must bring your own weapons. Safety not guaranteed." Jeff figures they can track down the P.O. Box, find the ad's author, pump the chump and dupe the stupe for a few quotes and write a mock-'em sock-'em story, easy.
In April, I was invited to see a sneak preview of the upcoming film "50/50," which concerns 27-year-old Adam (Joseph Gordon-Levitt), who's fighting cancer, and Kyle (Seth Rogen), the pal who stands by him. It's based on the true story of Will Reiser, writer, Rogen associate and cancer survivor. I felt like it was fine — sure, it killed a character off just after we got to like him, but by and large it played fair and found some laughs in an experience few of us could imagine. I was sure that, before the movie opened at the end of September, I'd have the chance to think about it more from my distant, abstract, wouldn't-know-what-it's-like perspective.
In May, I realized I didn't like my doctor. So I got a new one. In June, my new doctor poked and prodded me and thought that my liver felt big, so he prescribed an ultrasound. I got one, eventually, on the 19th. And on the 22nd, I was called and asked to come in as soon as possible. My liver was fine, but there were "unusual changes" in my right kidney: a mass about 2 inches across. Which turned out to be cancer. And then, sympathizing with the characters of "50/50″ got much, much less abstract and the end of September felt a lot further away than it did before.