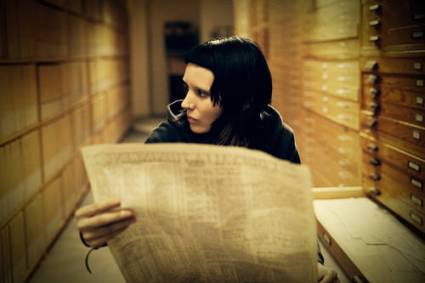 Calm, collected, and the face and figurehead of a major motion picture, Rooney Mara's press tour sees the actress far removed from Lisbeth Salander's shadowy world of conspiracies and brutal violence. Elegant and engaged — and perhaps a bit exasperated by the media attention created by taking on the role of the new millennium's action anti-heroine — Mara spoke with us in New York about her training, out-shooting James Bond himself and how working with director David Fincher on "The Social Network" may have hurt, not helped, during her audition process …
MSN Movies: Flashing back a matter of a dozen or more months ago, you're shooting a lengthy scene with David Fincher in a loud bar, you're ping-ponging dialogue back and forth with Jesse Eisenberg for "The Social Network," the opening scene of that great film. Did you have any idea that how that was somehow going to lead to this?
Mara Rooney: No, and I don't know that it did. Maybe it did. I don't know. I don't really think of it like that. That was such an incredible experience, and I felt so lucky to be a part of it. I think playing that part that was part of the reason it took so long to cast me. I think a lot of people really saw me as that character, and it was hard for them to imagine me as this character.
Right, because apparently the audition process and waiting to find out if you actually had the part for this film took a length of time that makes a four year university degree look like a lunch break. How nerve-wracking did that get to be?
It was pretty nerve-wracking, but I felt very focused and I always kind of felt like it was what I was meant to do, and it was going to happen.